Leadership Skills

Leadership Programs

Mentorship

Evaluations

Accountability

Rewards & Recognition

Franchises

Coming in Q1 2023

Available to Veterans

Ownership

Investment

Networking

Events

Community Outreach

Family Bonding

Challenge Yourself

Learn Something New
Frequently Asked Questions
How does the Affiliate Program Work?

Scars and Stripes Coffee is a single-level distributor, e-commerce marketing business, for Veterans.. Your income is directly related to your individual sales and not connected with anyone else. There is a start-up cost of $100 dollars which will provide you with an e-commerce starter kit.  You will also be placed on a team of like-experienced Veterans, that can help guide you through the trenches of being an entrepreneur.

Monthly commissions will be paid out via PayPal.  If you do not have a PayPal account then you will need to register an account upon signing up.

Once registration is complete, you will be sent an email with important information, regarding the initial start-up stage, as well as resources that will help you be successful.  From there, you will receive a call within 7 days from someone from within your Chain of Command. 
Are you a multi-level marketing program?

No, we utilize a direct sales marketing model.
How long does it take to get approved after joining?

Via Up Promote, our affiliate marketing software, you are instantly approved. From there you will need to upload your W-9 form and ensure that your payment information and other settings are updated and correct. Once you order your Starter Kit, you will be placed on a team.
Do I need my W-9 uploaded before approval?

No, but you will need it uploaded before you can start ordering large amounts of coffee or our event kits.

To do so go to your user dashboard, and undersettings you can upload your W-9 Form.
Is my personal information secure?

Yes, only a limited number of people have access to your identifiable information and NO ONE has acess to your full payment information.
How long does it take to get my Starter Kit?

You have to order your starter kit online through your link. Once we receive your order, it typically takes 2-3 business days to ship and in some cases, less.
What is included in the Starter Kit and how much does it cost?

Our starter kits cost $100.00 and include online training modules, digital marketing material, a digitial business card template, a Scars and Stripes Coffee t-shirt, SSC pens, SSC challenge coin, one care decal, and four bags of sample coffee (one of each roast).
Is there a requirement to stay active?

Yes, you must sell $30.00 or more, per month, to be considered as active. If you do not make any sales within 90 days, and there have been failed attempts to communicate with you, you will be placed on the inactive roster. You may return at any time, by contacting info@scarsandstripescoffee.com.
How does the structure work?

Everyone that joins, starts at the bottom and works their way through the rank structure. Ranks available include; Team Members, Squad Leaders, Platoon Sergeants, First Sergeants, & Command Sergeants Major. 
Collapsible content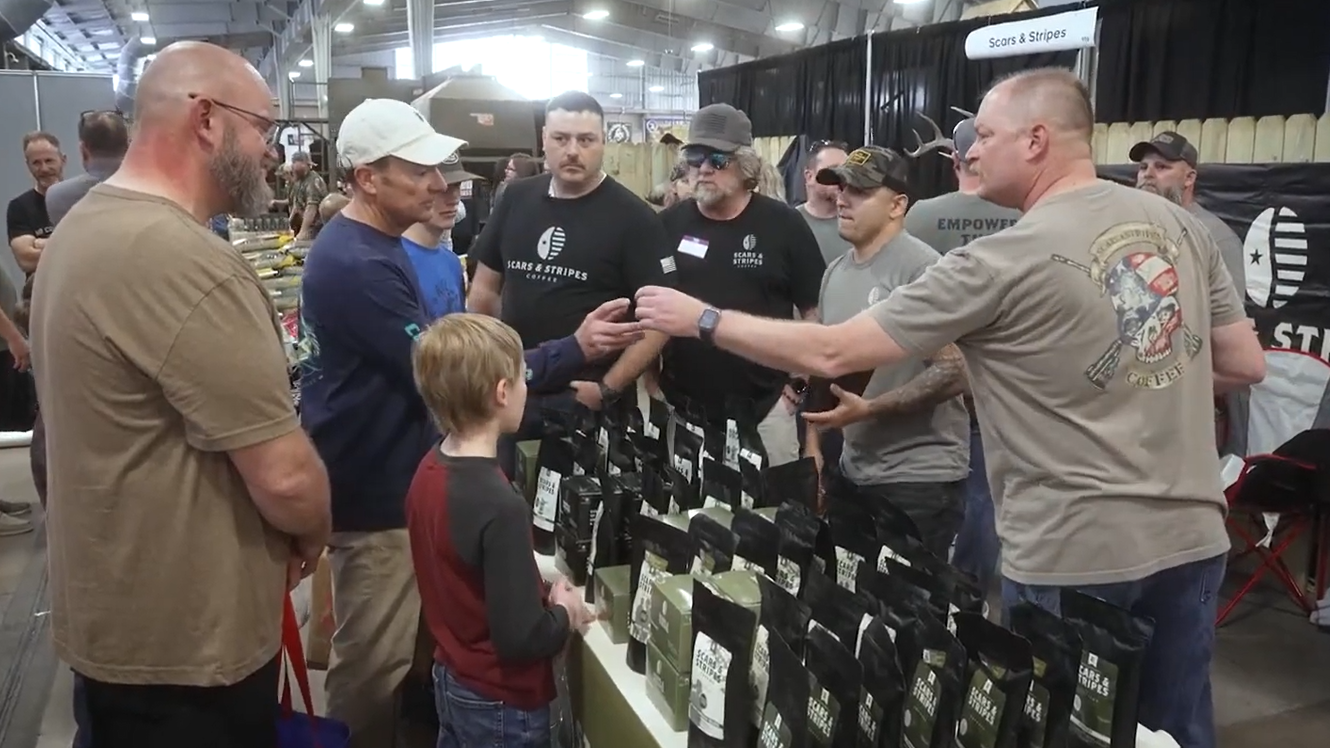 How long before I am contacted by my leadership?

Once you are activated, you will be contacted within 7 business days.
Can my spouse sell products?

Yes, but they have to sell using your unique link or Vet Code. In the near future we will open it up to Veterans and their dependents.

We highly encourage our team members to build this business with their families.
Do I need an LLC?

It is highly recommended to obtain your LLC and EIN prior to working an event. Each state is different. For more information, you can reach out to your Squad Leader. There is also information within our learning modules that will set you up for success.
Will I have to pay taxes on my earnings?

Every states is different. It is highly recommended to reach out to a tax professional in yoru state. We also have a learning module that will provide you with more information.
Do I have to be placed on a squad?

Yes, you will be placed on a squad when you sign up. It is up to you to communicate with your Squad Leader what your goals and intentions are from this mission. Our priority is bringing Veterans back together, but if you choose to be more self-sustaining, that is okay as long as you are meeting the minimum sales requirement to stay active. Just make sure to communicate your intentions with your Squad Leader so they are aware and don't mark you as inactive. 
How and when will I get paid?

You will be paid NLT the second Monday of the following month (i.e. you will be paid for November's sales, on or before the second Monday in December).

Your commissions will be paid to your PayPal account. If you do not have a PayPal account, you will need to set one up before registering with SSC.